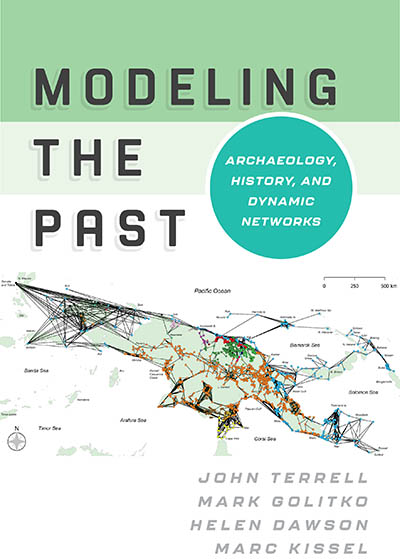 Email Newsletters
Sign up for our email newsletters to get customized updates on new Berghahn publications.
Modeling the Past
Archaeology, History, and Dynamic Networks
John Terrell, Mark Golitko, Helen Dawson, and Marc Kissel
248 pages, 45 illus., bibliog., index
ISBN 978-1-80073-869-0 $149.00/£110.00 / Hb / Published (March 2023)
eISBN 978-1-80073-870-6 eBook
View Cart
Your country: - edit
Request a Review or Examination Copy (in Digital Format)
Recommend to your Library
Available in GOBI®
Reviews
" What I like about the whole book is the emphasis on historical and archaeological research as 'not the search for truth, but as a venue to test hypotheses – research that is testable, refutable, and replicable.'" • Stephen Acabado, University of California-Los Angeles
Description
How do researchers use dynamic network analysis (DYRA) to explore, model, and try to understand the complex global history of our species? Reduced to bare bones, network analysis is a way of understanding the world around us — a way called relational thinking — that is liberating but challenging. Using this handbook, researchers learn to develop historical and archaeological research questions anchored in DYRA. Undergraduate and graduate students, as well as professional historians and archaeologists can consult on issues that range from hypothesis-driven research to critiquing dominant historical narratives, especially those that have tended to ignore the diversity of the archaeological record.
John Terrell is Regenstein Curator of Pacific Anthropology at Field Museum of Natural History in Chicago. His most recent books are A Talent for Friendship: Rediscovery of a Remarkable Trait (Oxford, 2014), and Understanding the Human Mind: Why You Shouldn't Trust What Your Brain is Telling You (written with his son Gabriel Stowe Terrell, Routledge, 2020).
Mark Golitko is an Assistant Professor of Anthropology at the University of Notre Dame and a research associate at the Field Museum of Natural History. He has published extensively on ancient exchange, social networks, conflict, and the application of chemical methods to the study of archaeological material culture. He is the author of LBK Realpolitik (Archaeopress, 2015).
Helen Dawson is an archaeologist specializing in the comparative study of the Mediterranean Islands. She is currently an adjunct professor at the Department of History and Culture of the University of Bologna, and an associate research fellow of the Freie Universität Berlin. She is on the editorial board of the journal "Shima" and on the advisory board of the Small Island Cultures Research Initiative (SICRI).
Marc Kissel is an assistant professor of anthropology at Appalachian State University. He has published on various topics such as modern human origins, warfare and peacefare in the past, origins of human symbolic expression, and critical pedagogy. He is part of the team behind "March Mammal Madness," a science outreach project that over the course of several weeks in March reaches hundreds of thousands of learners in the United States every year.
Contents
Download ToC (PDF)